Plan and Design
How to Build a Successful Laundry Operation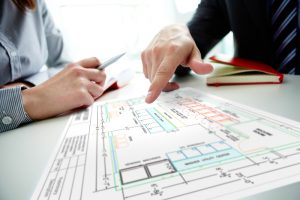 Building a successful laundry operation takes a lot more than simply finding a space and buying equipment. Alliance Laundry Systems professionals will provide you with all the tools and services you'll ever need — and guide you through every step of the design process. Our experienced team will create a customized plan that positions you for success.
---
Primus Laundry Design Service
Xtreme in Innovation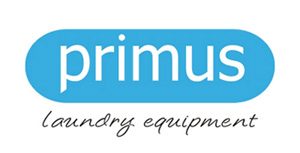 Primus is dedicated to continuous improvement delivering laundry solutions that are focused on quality, reliability and value. The Primus Laundry Design Service provides several time-saving design and planning tools to give your laundry proposal the edge over the competition.
---
Preliminary Drawing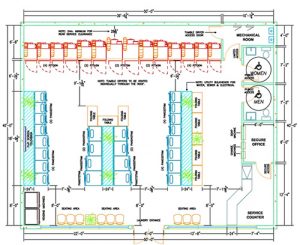 Don't waste valuable resources on your own design when Primus Laundry Design Service can do it for you in a fraction of the time. Simply fax or email a rough sketch or notes describing room dimensions, window and door placement, and utility locations to the Primus Laundry Design Team and you will receive a Preliminary Drawing that displays:
Machine placement
Locations of tables, coin changers, service counter
Areas for seating, vending, doors, windows
The Preliminary Drawing adds polish to your laundry proposal by helping your customer fully appreciate the flexibility and industrial-design of Primus's laundry equipment.
---
Utility Schedule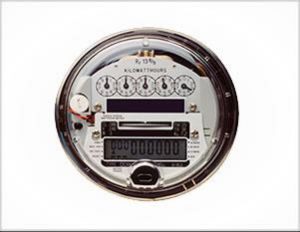 You will receive a customized Utility Schedule based on the specific model mix for the facility. The Utility Schedule organizes requirements needed for:
Electrical service
Drain requirements
Gas requirements
Exhaust and venting
Water requirements
The Utility Schedule makes communicating with contractors and utility companies more efficient and streamlined thanks to the detailed, easy-to-read format.
---
3D View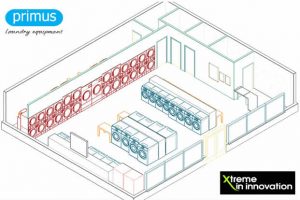 Take your laundry proposal to the next level with the 3D View. Customers will be wowed when they see details of their laundry facility completely outfitted with equipment and furniture with Primus's heavy-duty washers and dryers. With a better representation of height, width and depth, the 3D View provides a clearer look at what the finished product will look like.
---
Construction Drawing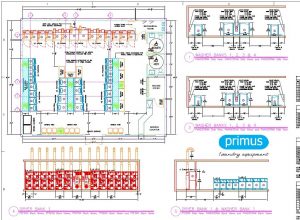 The Construction Drawing assists architects, building engineers and designers in preparing permits and drawings quickly and accurately.
The Construction Drawing package consists of four 24" x 36" paper copies of the drawing that detail information such as elevation, foundation and utility requirements for the laundry equipment.
Drawings are available in a variety of formats upon request. (.pdf, .dwg, .dxf)
Our service significantly reduces turnaround time, which in turn saves your customer time and money.
---
Photo Realistic Rendering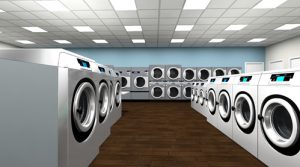 Make your sales proposal stand out from the competition! The Photo Realistic Rendering consists of a set of images that go above and beyond the standard 3D view package by providing realistic, detailed images of how the finished facility can look.
Four images are provided in hard copy or digital format.
Designs can be created with custom color schemes.
Furniture, flooring and accessories can be represented to give the images a finished look.
The Photo Realistic Rendering takes your proposal beyond just another bid by providing a life-like representation of the finished laundry facility. Showcase a laundry proposal that outshines the competition!
If This is a Service You Feel Would Benefit You, Please Call Us We Would Be Happy To Advise